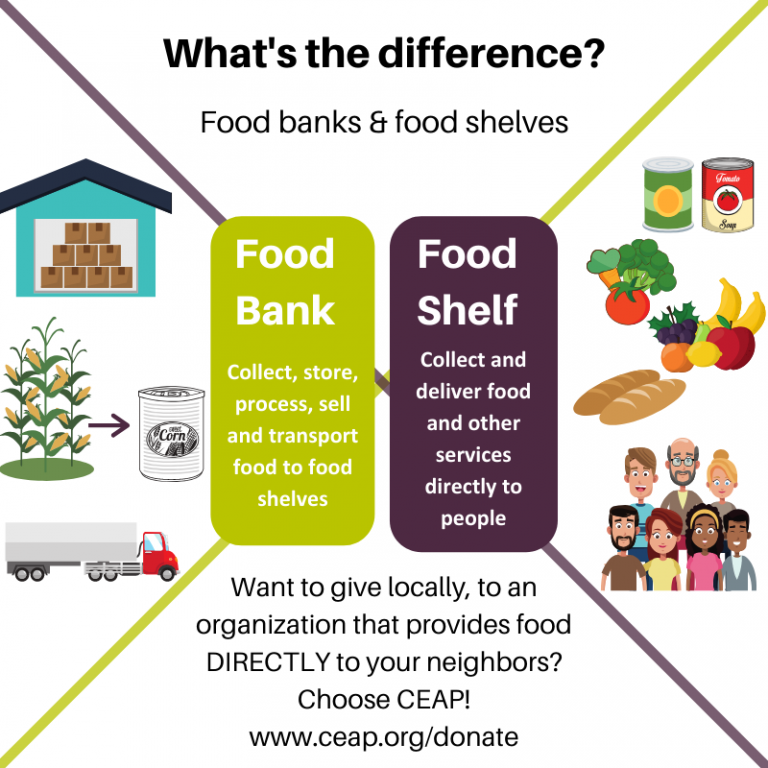 After we announced our second location in partnership with Second Harvest Heartland, we know some people were asking "Wait, what? Don't CEAP and Second Harvest Heartland do the exact same thing?"
And our response is: "Well…. No!"
But what IS the difference between a food bank like Second Harvest Heartland, and a food shelf like CEAP?
Food banks and food shelves are both vital members of the food security and hunger-relief system. They have different roles to play, and both must be funded and supported by community members for the system as a whole to succeed!
Food banks operate as a kind of congregator and wholesaler of food that is often donated by farms, grocery stores, corporations, and individuals. Food banks have the capacity and technical know-how to store, process, sell, and transport large quantities of food to food shelves.
Food shelves are the direct service end of the system; it is your local food shelf, like CEAP, that works directly with people who receive the food. Food shelves have several ways of receiving the food that stocks their shelves; CEAP also receives donations of food from farms, grocery stores (CEAP has a pretty big food rescue program with our grocery partners!), companies, and individuals. It's very important to CEAP to offer a consistent variety of nutritious food in our market, and we can't always guarantee that donations alone will provide that. That's when purchasing food from a food bank comes in!
When CEAP anticipates or realizes a need, we can call up our food bank partner Second Harvest Heartland and purchase bulk quantities of specific foods. Second Harvest Heartland sells the food to us at cost (meaning it's less expensive than heading to the grocery store) and delivers the food to our door.
In order to utilize a food bank, CEAP has to have funds available to purchase the food. That means that you can donate either food or funds to CEAP to stock our shelves! Purchasing food from Second Harvest Heartland is one of the ways in which your financial donations to CEAP are used, and why it's so important that we receive those donations.
As we approach Give to the Max Day on November 14th, we hope you'll consider supporting CEAP so that we can continue providing services to your neighbors with dignity and care.